This is a picture of me, in my best looking mood, from some time in 1996. Don't be fooled by it for a minute.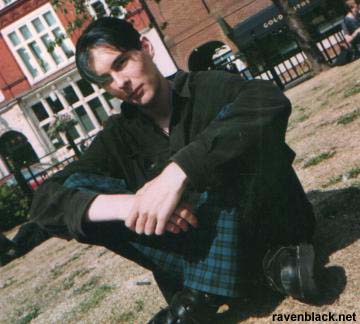 I generally dislike having my photo taken, hence the massively outdated pictures.


I'm a programmer. Currently I'm kind of floatingly employed on a contract basis, which is good because it leaves me lots of time to work on my own game. I was working on a space game, but lack of interest (of people with money, and of myself) has driven me to turn my attention, instead, to a massively-multiplayer RPG, on the basis that those there are already, are very poor. More details of the game should be forthcoming as the code progresses.
I like to exist in organised chaos, or Creep.
I consider that it would be a waste of my time and yours to describe myself physically (apart from those bits which I don't think I'm allowed to show in photos... And I'm not going to describe those bits, no matter how tempting it is) because I can just stick a bunch of photos here, like so.
| | | | |
| --- | --- | --- | --- |
| Silly elven garb, May '98. | As Dream, Sometime '97. | 'Blue' hair, July '06. | Evil Archaeologist, Nov '03. |
| Hand-made hat, June '99. | On horseback, May '98. | With white hair, Sep '01. | Faux-intellectual, Nov '03. |

So... What do I do?
If I'm not 'working', I tend to play games. Computer games, even. Many people think that with working on a computer I'd get sick of it. Not yet.
I also pass time by thinking, though I often do this under guise of doing something mindless like watching television or walking. Occasionally I aid my thinking by talking to friends, or hinder it by talking to strangers.
I'm vegetarian. Very. No meat has passed my lips in many a year. Possibly my entire life. I'm even vegan at time of writing, which has been held to fully comprehensively (to my knowledge) since the beginning of 1998, and pretty much before that for a couple of years.

I play on MUSHes... Most commonly as RavenBlack on Absolute MUSH.
I do some excellent MUSH code, some of which is around on this site. No, I won't write MUSH code for you, unless you grovel a lot and I'm in a good mood and I'm bored. This never happens.

I have some friends. They're people who I like, just like most people's friends are to them. If you'd like to know more about them (or if you're one of them and you'd like to know more about you), click here.
My favourite film is... Variable, a spur of the moment thing. Maybe a Jackie Chan thing, or The Crow (only for the raven actors), or Rosencrantz and Guildenstern Are Dead.

Bands I like (and have links for) include The Cure, My Life Story, Velvet Underground, Counting Crows, Counting Crows (another link), Pearl Jam, R.E.M., Blur, James, Therapy?, The Divine Comedy, Radiohead, Pulp, Suede, Paris Burning, Gossamer, Adrian Alexis, Voltaire

I have a bit of a thing about words, often annoying people by correcting spellings and grammar, and by pausing to choose the best word for a situation. Some situations don't have a word, and I try to remedy this situation by making them. My words, then, in the dictionary addendum.
---
[ One small step back to the perch ]